Production line of metal tiles covered with stones
stone coated metal tile is a kind of the steel roofing sheet, which is made of the stell sheet and the stone powder.
Stones metal tile, is the use of high-tech production with outstanding corrosion resistance of galvanized steel as the substrate, with good weather-resistant acrylic resin as a binder, colored gravel for the natural surface of the new advanced roofing materials. Because of its appearance, lightweight, durable, environmentally friendly in recent years has become an international mainstream of roofing products, some of the domestic high-grade construction has started.
Galvanized steel is used as the substrate, fingerprint resistant coating, color sand, acrylic resin.
1) Galvanized steel is composed of 55% aluminum, 43.4% zinc and 1.6% silicon composition of plating solution made by electroplating, workability, paintability and galvanized steel sheet is substantially the same.
2) The above protect galvanized galvanized layer functions as fingerprint resistant coating, fingerprint resistant coating, and fingerprint resistant galvanized steel and color coating allows for better adhesion of sand, fingerprint resistant coating color into colorless, transparent and light green.
3) metal sand colored decorative tile layer and primary layer of protection, which is composed of sintered particles having a particle size of basalt by high-tech and high temperatures from the coloring process. With more than a variety of colors, can be resistant to ultraviolet radiation, can reduce the noise caused by rain to the metal tile.
4) acrylic resin as binder and sand key plate material, but also as a protective layer surface of the sand, to prevent water leakage detail, can extend the life of the sand color.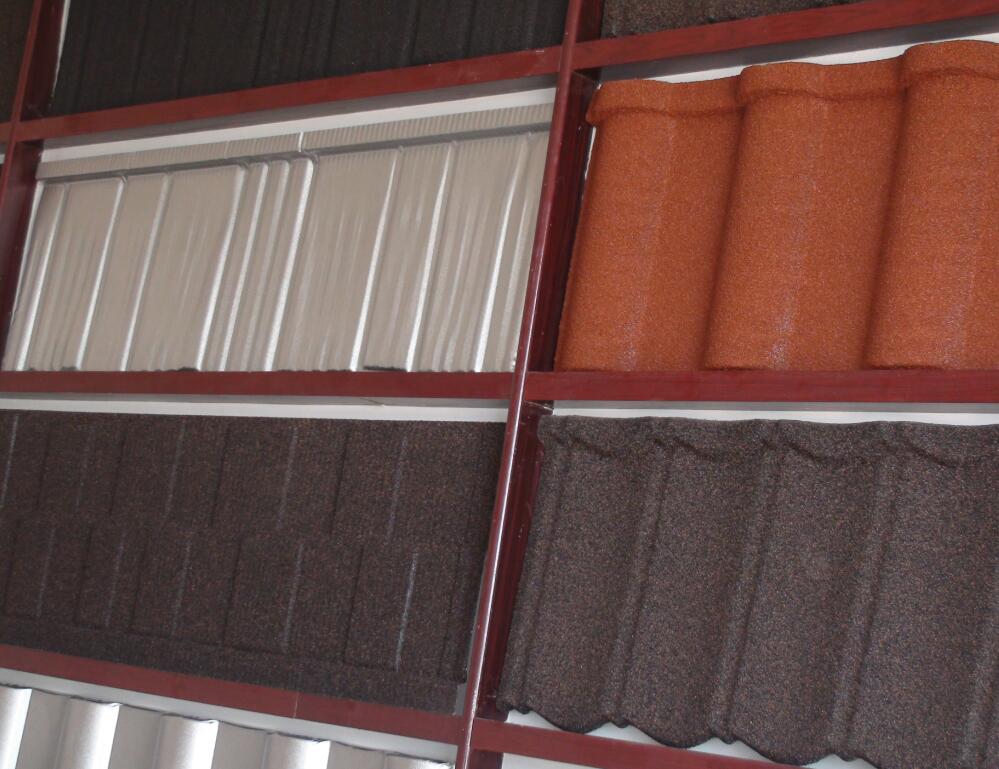 Production line of metal tiles covered with stones (aluzinc 1350 mm X 420 mm X 0.4 mm)
Zhongtuo factory can make the stone coated matel tile machine, the machine line is formed from below factors:

all the elements constituting the production line:
• stone coated line
• Plate slitting shearing machines
• flower shearing machines
• Hydralic press Machine
• roof tile mold
• bending machines
• Punch-63T
And other machine tool and necessary for the operation of the production line.

The stone coated metal time machine can be designed as your required, kindly tell me your requirements, thenw e can design the machine for you!
More details about the stone coated Roll Forming Machine, please refet to: Stone coated metal time making machine line